---
SAPER GALLERIES

---
and Custom Framing

This Erte is in our current inventory and many others are also available.
E-mail us now with any other titles you are seeking and we will provide you price and availability details.
It is our pleasure to be of assistance to you!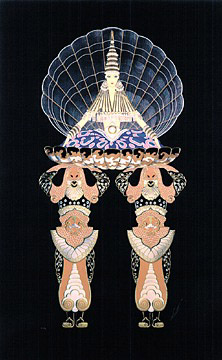 Mother of Pearl
Hand-pulled serigraph with embossing and foil stamping
Signed by the artist and numbered 29/300
Image size: 43 1/2 x 27 3/8"
$3,900 framed ($1,500 less than full $5,400 value)
Click here for pictures and more information about Saper Galleries
Click here to see the Saper Galleries inventory
Click here for the Saper Galleries home page
Contact Saper Galleries now for immediate assistance
Saper Galleries.... where excellence is the standard!
433 Albert Avenue East Lansing, Michigan 48823 USA TOLL FREE now: (877)537-5251 (517)351-0815
This page created on 9/20/03