---
SAPER GALLERIES

---
and Custom Framing
Home About Inventory Contact Testimonials Chat Live Now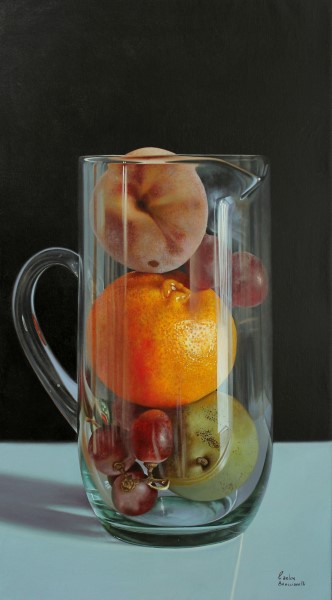 Fruits Still Life
Oil painting on canvas
Canvas size: 35 3/8 x 19 3/4"
$4,300 stretched
(On display in our east gallery. It even looks more spectacular in person!)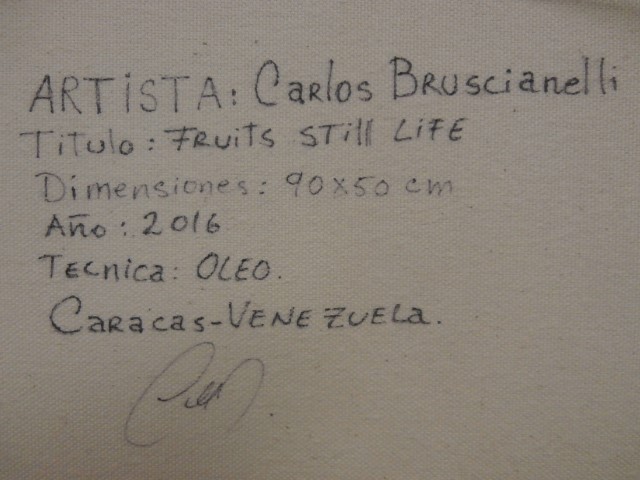 Back of the Fruits Still Life painting
Carlos Bruscianelli is a hyper-realist painter from Caracas, Venezuela. After studying civil engineering at the Central University of Venezuela, his artistic restlessness led him to take classes in realistic painting at the Museum Patrizia Rizzo.

Specializing in the techniques of oil on canvas and pastel chalk, Bruscianelli finally suspended his engineering studies in 2004 and devoted himself entirely to his painting. Bruscianelli says of his works, "At present, most of my works are composed of hyper-realistic still life. In them, I represent natural or man-made textures and elements including metal, wood, glass, marbles, fruits, paper, cardboard."

In 2008, he first exhibited his work at Gallery Dimaca, followed by the recognized LPG Gallery in his hometown of Caracas. Saper Galleries is pleased to now introduce the hyper-realism of Carlos Bruscianelli to the United States and rest of the world!

Please contact us about any of the original oil paintings shown below!


| | |
| --- | --- |
| Pomegranates | Marbles in Jar |
| Fruit Cluster | Rubik's Cube, Sphere, and Glass with Pencils |
| Fruit on Paper | Glass with Fruit |
| Marbles with Shadows | Colorful Marbles |
| Marbles and Glass | Marbles and Red |
Home
About
Inventory
Contact
Testimonials
Chat Live Now
Saper Galleries....where excellence is the standard!


Back to top of page
433 Albert Avenue East Lansing, Michigan 48823 USA TOLL FREE now: (877)537-5251 (517)351-0815