---
SAPER GALLERIES

---
and Custom Framing
Home
About
Inventory
Contact
Testimonials
Chat Live Now

Click icons above to see recent posts!


Venus Rising
Image size: 40 x 30"
Serigraph on canvas, 1998
Numbered CXXX/CL
$2,000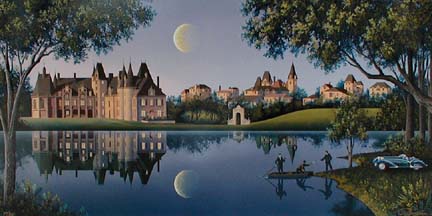 She Sends Her Regrets
Image size: 22 x 44"
Serigraph on paper, 1997
Numbered 77/300
$700 less than the full $1,900 value
$1,200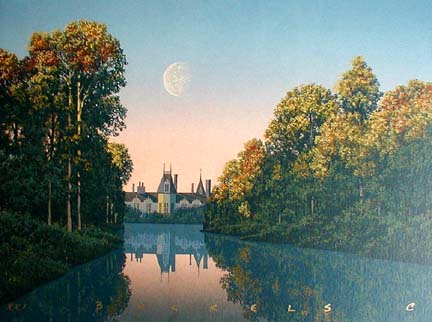 Crepuscule (Twilight)
Image size: 9 x 12"
Frame size: 16 3/4 x 20 3/4"
Giclee on paper on board
Numbered XXI/C
$485 framed
Iowa born painter and print-maker Jim Buckels (born in 1948) is an artist who is driven more by his inner visions than by fashions and trends, while maintaining an innate sophistication that places his work prominently within the post-modern mainstream. Buckels is a creator of dream-like images, rendered in a meticulous, modern airbrush technique with crystalline clarity. In his lithographs, serigraphs, and paintings, Buckels creates a realm of fantasy that has won him a major reputation and following.

Jim Buckels' fascination with fantasy began in early childhood, influenced by storybooks illustrated by N.C. Wyeth, Maxfield Parrish, and Howard Pyle. His artistic talent would later win him a scholarship to the University of Northern Iowa. His adventurous spirit compelled him to interrupt his studies during his sophomore year, when he enlisted in the U.S. Army for a three-year stint that would include a tour of Vietnam. Returning to civilian life and college in 1971, Buckels earned a degree in art and began his career as a freelance illustrator. He became known for his stylized landscapes, inspired by regional artists such as Grant Wood and Thomas Hart Benton, and the primitive dreamscapes of Henri Rousseau.

These unique influences are reflected in the artwork for which Jim Buckels is now best known. The visionary vistas and fantastic architectural details offer the viewer a restful respite from reality and provide a magical refuge for the viewer, a return trip ticket to the storybook realm of childhood reverie.

As one New York art critic noted, Jim Buckels works "tell stories that linger in memory long after one has viewed them, hinting at truths that lie just below the surface of the seen world". For this reason as well as for his outstanding technical skills, Buckels has emerged as a contemporary master whose work will continue to enthrall us for many years to come.

Please visit to see the Jim Buckels limited editions we now have on display at Saper Galleries. Thank you!

Home
About
Inventory
Contact
Testimonials
Chat Live Now
Saper Galleries....where excellence is the standard!

433 Albert Avenue East Lansing, Michigan 48823 USA (517)351-0815