---
SAPER GALLERIES

---
and Custom Framing
Home About Inventory Contact Testimonials Chat Live Now

Portrait of a Young Man
Copy after Antonello da Messina, circa 1478


Oil painting on board
10 5/8 x 8 1/4" painting size
20 x 16" framed
$3,200
Note the unique frame was carved and created by the artist
to reflect the period and place from which the original was painted.
The original, from which this copy was inspired, was created about 540 years ago and was painted in oil on a walnut plank measuring 7 7/8 x 5 1/2". It is in the Gemäldegalerie Museum in Berlin, Germany. Da Messina lived circa 1430 to 1479 and was from Messina, Sicily, active during the Italian Renaissance.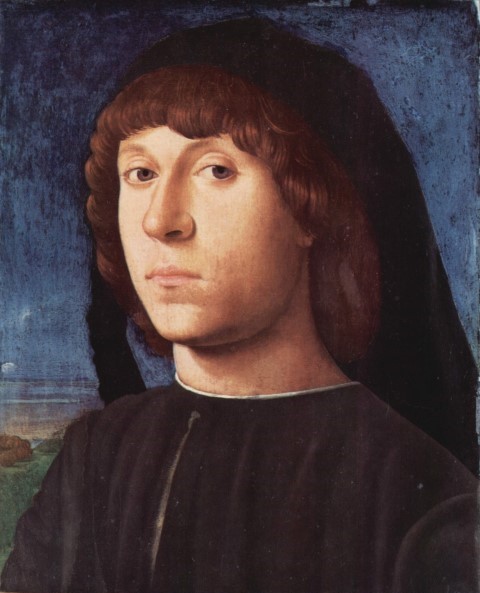 This painting made to look old The original from 1478 in Berlin
Back of the painting similar to the original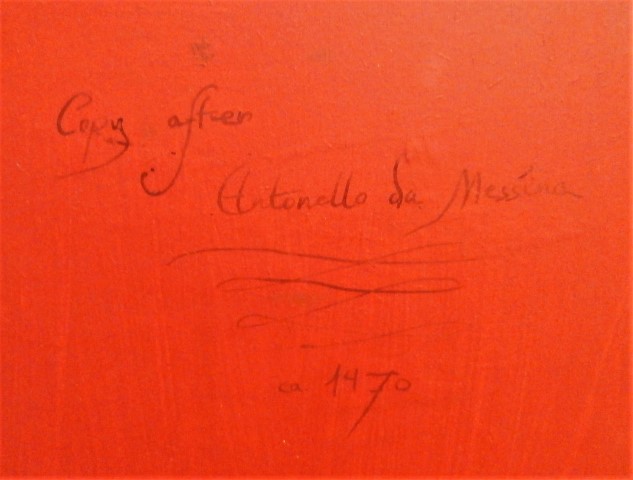 Would you like an original Herrero painting created for you? Here are examples of his work:
Miquel Herrero was born in Gandia, (Spain) in 1984. He started his artistic vocation at an early age. Once he graduated from high school, he moved to Valencia where he joined the School of Fine Arts. He completed his studies with two master degrees, one in Artistic Production and other in Conservation and Restoration of Noteworthy Cultural Property.

Herrero's artwork intends to recreate the lost secrets of the old master painters. Through continuous experimentation and historic investigation, he creates artwork with the same artist techniques and processes the old masters utilized centuries ago.

Miquel focuses on creating unique reproductions which celebrate the style and elegance achieved by the old masters of the past. The materials and pigments employed are the same that were utilized hundreds of years ago. The exceptional aging replication is achieved through unconventional applications and materials.

His artwork is in museums, public institutions and private collections. Saper Galleries is honored to present to the world, the amazing talent of Spanish artist Miquel Herrero.

Home
About
Inventory
Contact
Testimonials
Chat Live Now
Saper Galleries....where excellence is the standard!


Back to top of page
433 Albert Avenue East Lansing, Michigan 48823 USA TOLL FREE now: (877)537-5251 (517)351-0815