Artist Jack Hillman Discusses...



My visual language is formed into sculptures through minimalist lyrical softly kinetic rods of metal. They have been described as "clean lined contemporary precision touched with joy and fascination". The pieces require thoughtful planning and forming to give them their unique balance and turning and swaying movement. The greatest enjoyment occurs when one quietly relaxes in contemplation during times of gentle breeze. My wish is to share my fascinations with others --- to bring the invisible into visible and to smile with a knowing connection.



Processes

With the many years as an industrial designer, a skill was honed for discerning and balancing forms, proportions, directions of lines-of-sight, relational influences of adjacent details, positive-negative spaces and overall homogeneity; the development of a sensitivity to the visual and tactile effects of only three-thousandths of an inch (.003 or paper thin) variation. This seeming hyper-pickiness was important since hundreds-of-thousands of the same item would be produced. Now that pride of craftsmanship heritage is being carried forward with my sculptures.

Fabrication of the sculptures is achieved by utilizing hand manipulated tools to finesse the metals into shape. I have heard that "horse whisperer" cowboys in the wild west USA have a particular moment of connection in the taming and training of range wild mustangs and stallions. At that certain moment, the instincts of distrust and protection from the wild, soften and yield to an understanding and cooperation which immediately moves forward the learning process. Bending steel rods is much the same. I frequently experience this resistance, then understanding, yielding cooperation happens as I am physically bending and striving for fluid forms in the lines of metal I work with. I don't have adequate words to describe the exhilaration and passion which flows in the moments when this occurs. It becomes a total oneness with the sculpture. From that point forward the sculptural form which you also connect with, very intuitively and fluidly evolves.

As with the bending/forming fabrication, the joining process is something I take great pride in. The elements could be mechanically joined, but the potential for a certain clunkiness in these minimalist pieces could interfere with the overall fluidity of form. I chose to invest the time to learn TIG welding for the joining process. At art shows where I have exhibited, I frequently have seasoned welding and manufacturing pros complement me on my quality of craftsmanship. That's a nice affirmation. Where joining occurs, I make sure there is penetration of heat and filler rod so strength and durability will be inherent. But I don't just stop with the structural; I continue to apply heat deposited filler to build the flowing continuity you see at each intersection. But that is only the beginning; many hours are spent physically grinding, filing and finessing the fluidity which the experts respond to.



Materials and Finishes


I work with mild steel and stainless steel. The mild steel is the material I began with and yields the emotional evolvement of form described above. Every piece is finished with the most durable materials I can obtain so that the sculptures will give lasting joy in an outside or inside environment. With the mild steel pieces, I most often use the proven durable powder coating application for color and for UV resistance, achieving the energetic colors collectors respond to. If conditions may require future touch-up, then automotive quality polyurethane spray paint is the color finish of choice.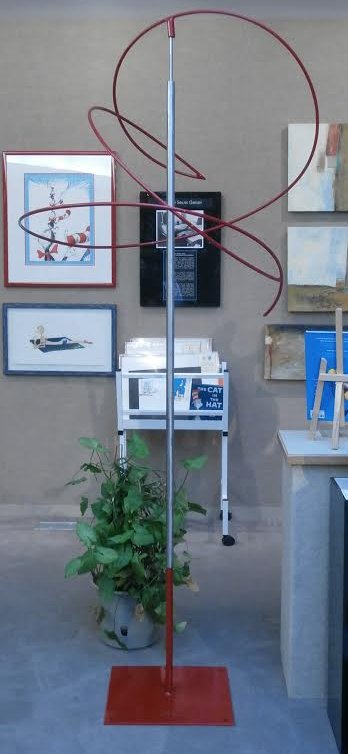 Contemplation
Kinetic powder-coated steel sculpture on steel rod and base
84" tall
$3,200



Artist Jack Hillman with a specially-commissioned kinetic sculpture based on the smaller Circle of Friendship. Would you like a large commissioned kinetic sculpture created for your home, inside or out?!