Home
About
Artists
Contact
Testimonials
Chat Live Now



Click icons above to see recent posts!



A very limited number of original oil paintings by Phillips are now available. Click here to see them!

Yes, we can ship Frederick Phillips artwork to you anywhere in the world! Want to see more? Email us!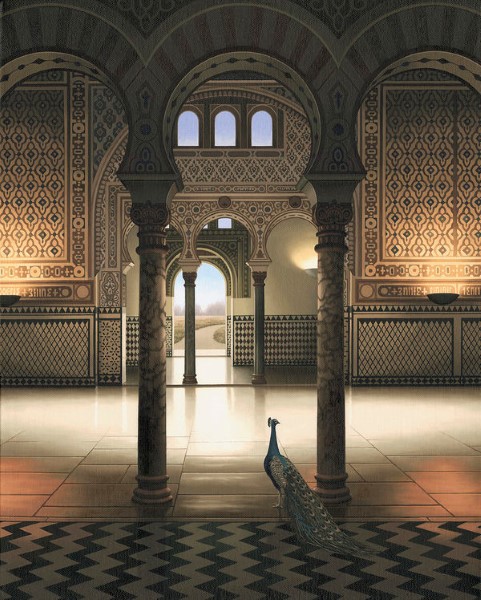 Alcazar Palace
New and on display now!
Limited edition print on canvas, signed and numbered 41/99
30 x 24"
$350





Colonnade


New and on display now!
Limited edition serigraph on paper, signed and artist proof numbered A.P. 1/60
28 x 20" image size
$1,400 framed
Note, this print is sold out except for this one remaining artist proof
This print appears on the cover of the 132-page book Quintessence about the art of Frederick Phillips
A courtesy copy of the book is yours with acquisition of this last available serigraph of Colonnade!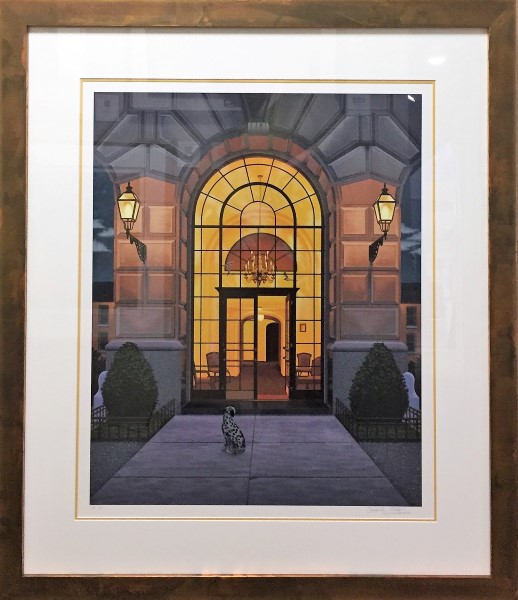 Nightlight
Limited edition serigraph on paper, signed and numbered
30 x 24"
Please inquire



Japanese Garden
New and on display now!
Limited edition print on canvas, signed and numbered 61/99
24 x 16"
$195

An elegant gazebo stands on the edge of a lake, its structure reflected in detail in the calm, still waters of deepest blue. Although it is daytime, in the furthest distance the moon -- mistress of water and tides -- is rising over a wild landscape.

In the foreground, colorful Koi fish dart here and there, bringing flashes of silver and red to the deep, dark waters of the ornamental lake. Creating barely a ripple as they swim, their movements do not change the reflections of the scene above -- a world they cannot know, but which the viewer can take delight in as they relax and enjoy this peaceful vista.

In Tracery, we see a scene that is, in part, a compendium of the artist's travels in recent years. The inspirations behind this image come from his visual memories of time spent in Spain and the Netherlands as well as his travels through the rolling drama of the Californian landscape.

The title could refer to the patterned filigree effect resulting from the intricate interplay of shadow and light as well as to the 'traces' of sights and sounds from places one has visited which can remain in our memories long after we have returned home.

Here, despite the strong but dappled contrasts of natural light and shadow throughout the image, the street-lamp glows softly in readiness for the approaching night whilst the bicycle resting against the lamp-post suggests both travel and repose, journey and arrival.


Tracery
New and on display now!
Limited edition print on Somerset Velvet Paper, signed and numbered 79/99
18 x 14"
$195
Also available on canvas, 23 x 18", for $240


Threshold
New and on display now!
Limited edition print on Somerset Velvet Paper, signed and numbered 40/99
20 x 14"
$250
For almost 20 years, Frederick and his wife Patricia lived on the outskirts of downtown Chicago. Following their return to the UK in 2007, the artist established a studio in a converted stable in a small village and began to re-explore the the English countryside as inspiration for some of his art.

Threshold is one of these rural paintings, bringing together the beauty of the English countryside with Phillips' unique vision.

Almost identical trees stand in close embrace, early summer flowers at their feet as their just-budding branches play host to birds enjoying the delicate warmth of the afternoon. And beyond the trees, a field brings forth green shoots, a sign of the bounties that will be harvested as early summer shoots become autumn's abundance.

Expressing the bond between mother and child, Beyond The Sky depicts an imaginative scenario where parent and child engage with the natural world - in the form of a white dove - in an intimate moment. Sunlight floods the scene and a sense of peace prevails.

Yet another painting inspired by the artist's visits to the Alhambra in Andalusia, here Frederick's innate sense of surrealism become apparent as the curving walls of this crescent cease and a landscape of blue sky and distant hills takes their place.


Beyond the Sky
New and on display now!
Limited edition print on Somerset Velvet Paper, signed and numbered 1/99
18 x 12"
$195



Flight of Fancy
On display now!
Limited edition print on canvas, signed and numbered 4/96
18 x 24"
$595

This rare Phillips Lake Michigan scene is the last available print of this image. It was published by Atlas Galleries in Chicago before they closed. At that time they had it at $1,200.

It is in new, perfect condition and the only one available.

Enjoy!

Differing times of day and night come together within an exotic interior of the magnificent Alhambra Palace in Granada, Spain.

Following the footsteps of his artist ancestor, Francis Topham, who visited the Alhambra by moonlight in 1852, Phillips timed his visit so that he could see what Topham had seen at night.

One evening, a short stroll led the artist and his wife to the Alhambra, where they saw for themselves the magical effects of moonlight upon the palace that they had previously only seen by daylight.

Back in the studio, the artist brought together elements of his visits. In his imagination, solid stone columns become trees reaching up to a nighttime sky and moonlight floods the interior, whilst in the distance, dawn begins to rise over the town of Granada.


Night Vision
New and on display now!
Limited edition print on canvas, signed and numbered 12/99
28 x 18"
$250

Winter Sun
New and on display now!
Limited edition print on canvas, signed and numbered 12/99
28 x 18"
$250
Along with inspirations from travels in places like Spain and Italy, Phillips also likes to explore places closer to his home. In many of his works, sunshine predominates — but not every painting is set in the warmth of the summer sun.

Inspired by a walk in the local park one early December morning, in Winter Sun, the low-lying sun of that season shines through almost-bare trees creating patterns of shadow and light on the freshly-fallen snow.

The waters of the distant lake are frozen and the sun will have to strengthen before the ice begins to melt. Until then, birds will need to find sustenance on the snow-covered ground as they await the warmth and the fruits of spring.

Visits to Puerto Rico have inspired many of Phillips' paintings in the last twenty years, for here, the artist found the style of Spanish-influenced architecture that he likes to include in his art.

These elegant buildings, built in the years before the island became allied with the United States, are sometimes in some disrepair through age or stormy weather.

However, the artist sees below the surface, finding the true beauty beneath. And by refining the surface appearance of an ornate doorway and recombining reality with imagination, the artistic result is Gate Of The Sun. Here, the sunlit doorway opens to reveal — not a continuation of the sunny day — but a scene of dusky beauty as the sun begins to set.


Gate of the Sun
New and on display now!
Limited edition print on canvas, signed and numbered 16/99
24 x 12"
$170

Il Mondo a Galla (from the Venice series)
New and on display now!
Limited edition print on canvas, signed and numbered
14 x 26"
$180
Also 16 x 30", numbered 54/99 for $280

In Il Mondo a Galla or "The Floating World", the natural reflections of Venice inspired this entirely imaginative vista where the buildings are, in fact, a mirror image — identical except for one small difference!

Here is Venice shaped by Phillips' unique vision — and expressed in his words as well as in oil paint:


"What can I say about Venice that has not been said with greater eloquence before? But ask me what I see — how this surreal vision of a place speaks to this artist's creative imagination — and I will tell you of some half-remembered dream of a Byzantine city rising from the shimmering depths of the Adriatic. Like nowhere else on earth, Venice is a place of magic and mystery where reality and reflection become indistinguishable".

During his time in Venice, rather than instantly recognized vistas, the artist explored hidden passageways, squares and backwater canals seeking unusual scenes and compositions, interesting reflections, bold colors and dramatic interplay of shadow and light.

In Memory of Venice we see Phillips' interpretation of a view that intrigued him; tall, elegant buildings lining both sides of one of Venice's many canals, with each side joined to the opposite by elevated lines of fresh laundry, gently blowing in the breeze.

In the far distance, the buildings themselves begin to fade out, losing their solidity and almost appearing to be suspended like the laundry itself. The result is an intriguing mix of reality,imagination and the artist's recalled memories.

Memory of Venice (from the Venice series)
New and on display now!
Limited edition print on canvas, signed and numbered 35/99
24 x 24"
$270
(also available 30 x 30" for $370)


Under Open Skies
New and on display now!
Limited edition print on canvas, signed and numbered 61/99
36 x 36"
$570
During his time exploring Spain, Phillips visited many grand and palatial buildings. In Seville, this included spending an afternoon at the Royal Palace, the Alcazar, which dates from the 13th and 14th centuries and is still used today by the Spanish Royal family.

Surrounding the main palace are magnificent fountain-filled gardens replete with orange and fig trees, date palms and many fragrant flowers. Here and there are small summer houses ornamented with colourful and intricately-patterned tiles.

Within, cool marble floors invite, offering respite from the afternoon heat. Inspired by one such building, the artist created his own exotic rendition, filled with orange trees and white doves. Columns support white marble walls which rise upwards, imperceptibly
fading into the blueness of the sky above.
Undulating waves of rich blue silk trimmed with gold are draped to form the backdrop in Out Of The Blue. This opulent fabric marks the interface between inner and outer - between the ornately furnished room in which we stand and the as yet uncharted pale and misty landscape beyond.

Antique stone columns solidly line the wall that leads our eye inevitably towards the carved gold-framed doorway - the portal between here and there, now and then. As in a dream, our sense of height is elevated; from the level of the room we look down upon the outside view.

The black cat seems to pause for a moment, unable to decide between curling up and relaxing upon the temptingly plump, red velvet cushion on the chair or wandering off to explore the landscape. But where exactly does this outer world begin? Perhaps, if we draw back the blue silk drapes, we will find no solid walls but only a continuation of the mysterious landscape awaiting out discovery.

Our imagination has no boundaries...


Out of the Blue
On display now!
Rare, early limited edition print on canvas, signed and numbered
38 x 26"
$750

Inner Landscape
On display now!
Limited edition print on canvas
Signed and numbered 34/99
20 x 16"
$170
Inspired by visits to beautiful gardens he had seen on his travels, back in the studio the artist wanted to create an image that captured the magic and mystery of those sun-filled views.

Allowing his imagination to roam free, in Inner Landscape the artist has created -- not just a beautiful garden -- but a scene that is as mysterious as the source of his original inspirations. As we follow the pathway into the far distance, we find an arched doorway opens in the landscape, revealing the same scene at a later time of day.

A bird in flight also follows the pathway, perhaps heading towards the world of mysteries that lay beyond that distant doorway....

This palatial image was inspired by visits to a stately home situated on the outskirts of London; it had been built in the 18th century as the setting for magnificent parties and lavish galas planned by a Duke for those guests lucky enough to be invited.

Among many entertainments, tame leopards on golden chains as well as other exotic animals were displayed for the delight of the guests.

In Reverie II the artist creates an imaginative scene of theater and fantasy, suggestive of those extravagant parties of the past. In this colorful and richly-glowing interior, golden sunlight streams through invisible windows, illuminating the bejeweled colors of the harlequin, who stands alone in poised anticipation of events yet to unfold...


Reverie II
On display now!
Limited edition print on canvas
Signed and numbered 50/99
24 x 24"
$270




Synthesis


New and on display now!
Limited edition print on canvas, signed and numbered from the edition of 99
24 x 20"
$250

The polished marble floors of an elegant corridor gleam and reflect the
sunlight that floods the scene in Synthesis.

Inspired by his visits to classical buildings built in the Spanish-style in Old San Juan, Puerto Rico, Frederick brought together elements of his many visits to the island with some of the things that reminded him of 'home'. His beloved cat - who was his much-loved studio companion for 16 years - is portrayed as reclining upon the coolness of the marble floor, but at the same moment the artist also shows her exploring the scene beyond.

And there is much to explore; the corridor ends and rather than glorious blue sky as seen through the columns of the corridor, time has passed and
there is night-time, with a glorious tropical full moon up above.

Winter Waltz

Limited edition serigraph on paper, signed and numbered from the edition of 500
27 x 22"
$550
Enjoy these rare, unique oil paintings now available to Saper Galleries clients due to special arrangement by the artist.
Please contact us for higher resolution images or to have one sent to you!
Almost There
Original oil painting on linen canvas
20 x 30"
$6,100 framed
Interior II
Original oil painting on linen canvas
24 x 18"
$4,400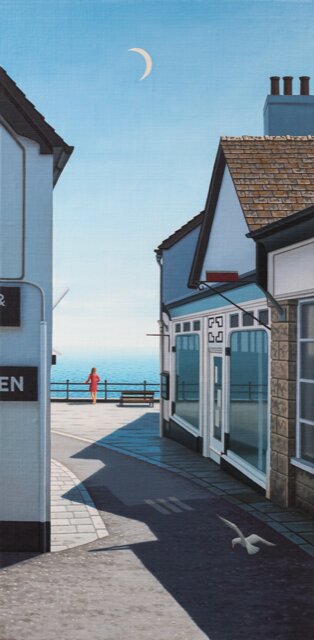 Ultramarine
Original oil painting on linen canvas on wood panel
20 x 10"
Sorry, sold for $2,100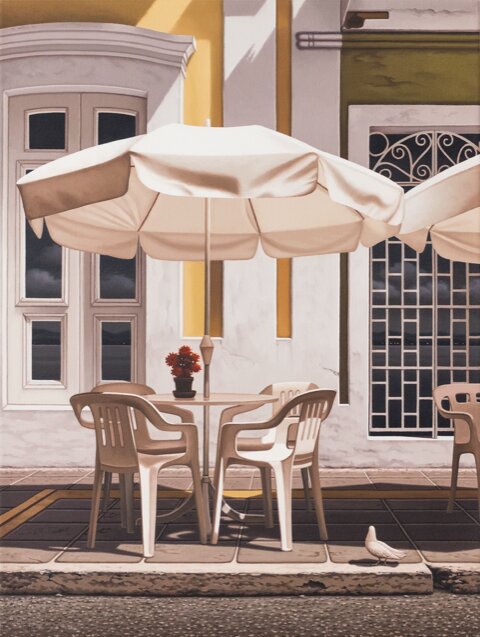 Afternoon
Original oil painting on linen canvas
24 x 18"
$4,400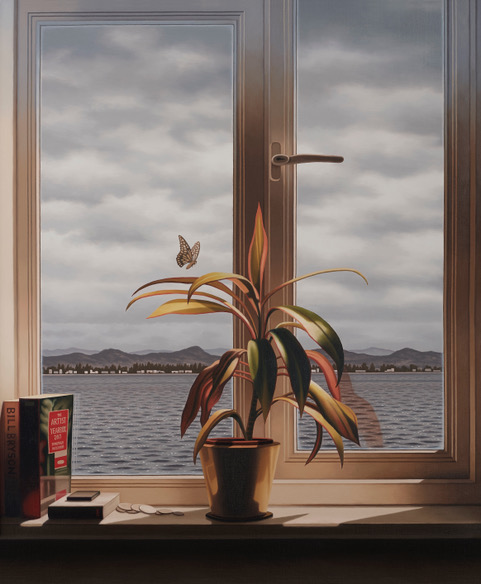 Translucence
Original oil painting on linen canvas
24 x 20"
$4,700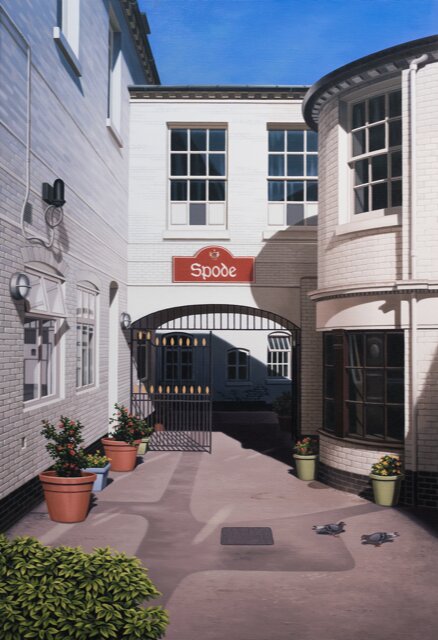 Courtyard Spodework
Original oil painting on linen canvas
30 x 20"
$6,000
Reflections

Original oil painting on linen canvas
24 x 16"
$3,900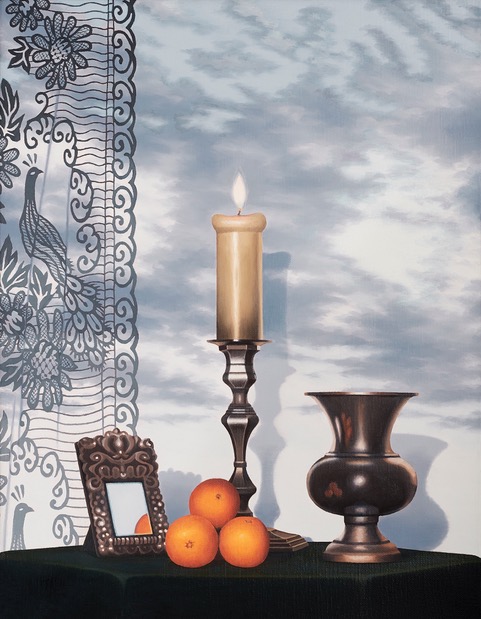 Veritas

Original oil painting on linen canvas
18 x 14"
$2,500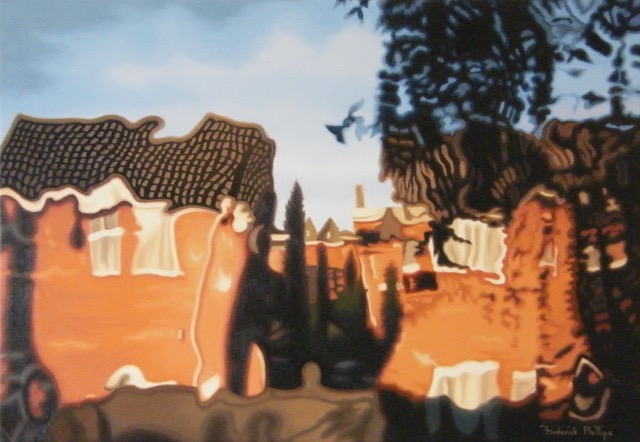 Suburbia

Original oil painting on linen canvas
14 x 20"
$2,800
Born in Stoke-on-Trent in 1953, Frederick Phillips studied Fine Art at Burslem College of Art. In 1974 Frederick graduated with a BA Degree in Fine Art and, following successful exhibitions in the Midlands, in 1981 he moved to London and began exhibiting his work at galleries there.

In 1990 he was awarded an Artist of Exceptional Merit visa by the USA and moved to Chicago where he lived and worked for almost 20 years. In 1996 he was invited to lecture on Dream and Reality in Art at the Museum of Contemporary Art in Chicago and in 2000 a book on his life and his art was published in America. Exhibitions of the artist's work have been held in London, Chicago, Boston, New York, Puerto Rico and Hong Kong and are in private and corporate collections throughout the world.

In 2007 he returned to his home town where he established a new studio and has since exhibited his artwork at exhibitions held in Manchester, Birmingham and Staffordshire. He also spent two years as a part-time Tutor in Life Drawing at Staffordshire University as well as participating in the judging of the UNESCO-sponsored International Children's Exhibition of Fine Art in Lidice in the Czech Republic where he joined an international panel of judges to adjudicate 26,000 artworks. In April 2016, the artist was one of the first to move his studio into the new ACAVA Artists' Studios at the former Spode Works pottery factory in Stoke where he continues to paint and plan future exhibitions.

Dedicated to the craft and tradition of oil-painting, Frederick Phillips is a painter for today who uses the techniques of the past to create the masterpieces of the future. His atmospheric paintings are like half-remembered dream images, glimpsed briefly as we awaken. As the artist himself has stated:

"Originally, I was inspired by the Surrealists, and even today my paintings are not realistic portraits of the world about me. My work is about memory; I don't paint what I see, but the memory of what I have seen".

We are excited to share with visitors to Saper Galleries the artwork of British artist Frederick Phillips.

Home
About
Artists
Contact
Testimonials
Chat Live Now
Return to top of page
Saper Galleries.... where excellence is the standard!

433 Albert Avenue East Lansing, Michigan 48823 USA (517)351-0815