Music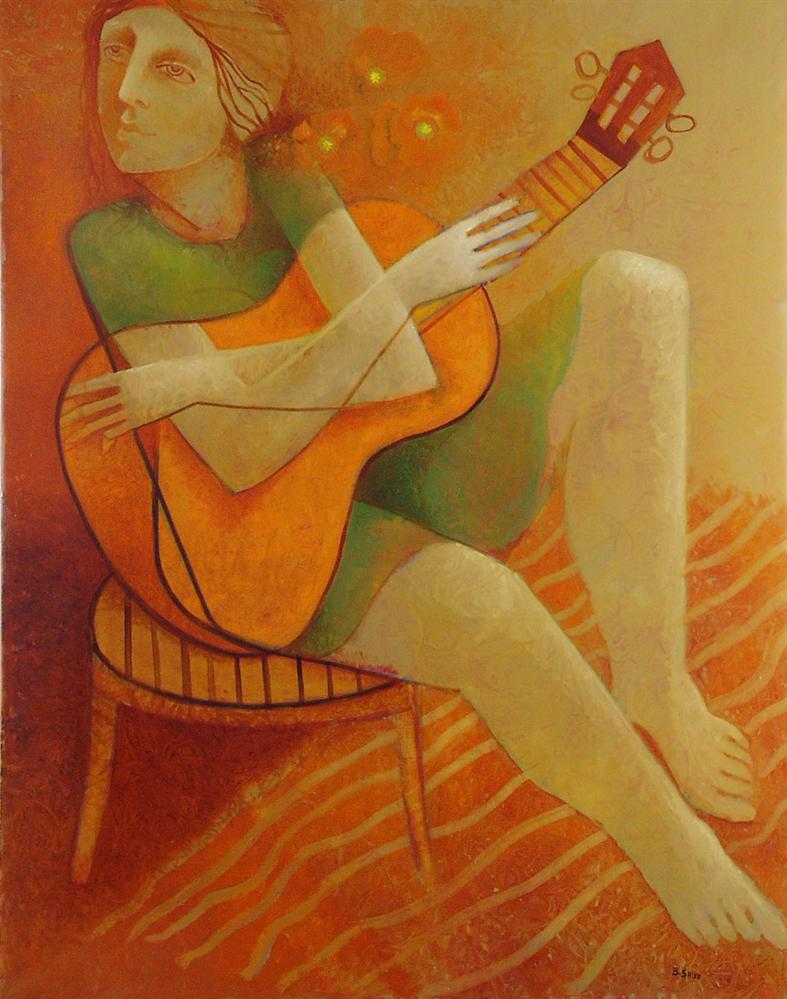 Anticipation
Oil painting on canvas
39 x 31"
$2,000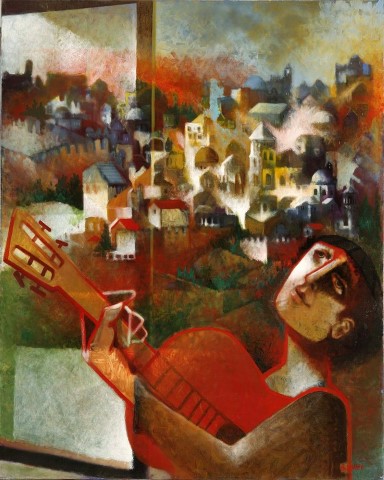 High Notes
Oil painting on canvas
31 x 25"

Sorry, sold for

$1,500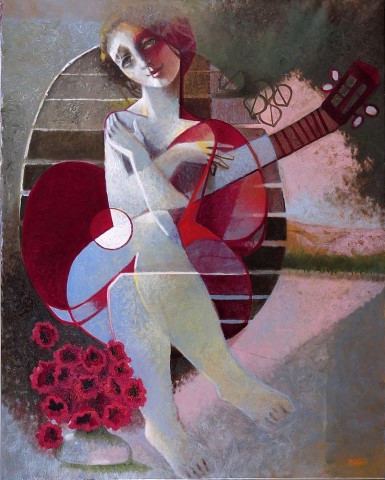 Introspection
Oil painting on canvas
39 x 31"
Sorry, sold for $3,900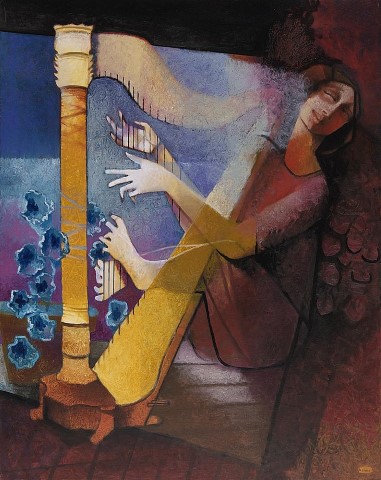 The Music Within
Oil painting on canvas
39 x 31"
$1,800
Figures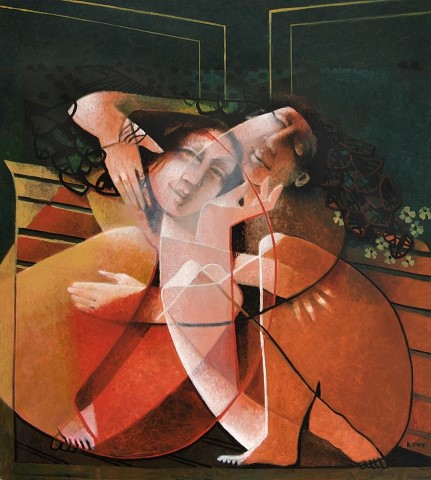 Adulation
Oil painting on canvas
39 x 35"
$4,000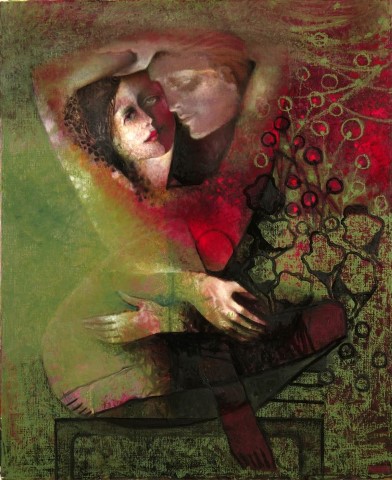 A Nation of Two
Oil painting on canvas
39 x 31"
$4,000
Flowers for You
Oil painting on canvas
25 x 16"
$600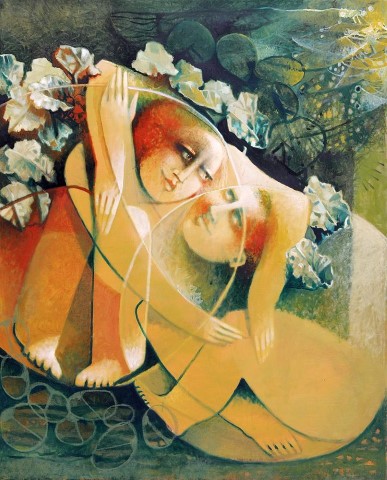 Happiness
Oil painting on canvas
40 x 31"
$3,300



Hope 2
Oil painting on canvas
31 x 25"
Sorry, sold for $1,800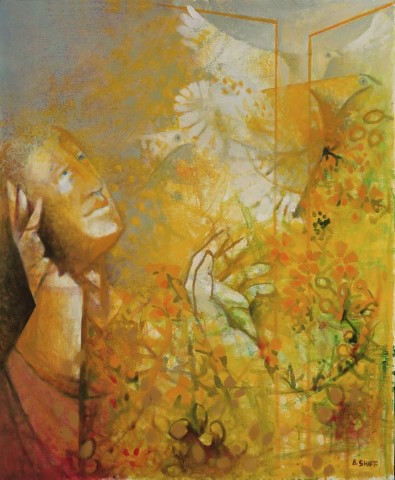 Hope
Oil painting on canvas
31 x 25"
$2,000
Just the Two of Us
Oil painting on canvas
47 x 25"
$1,800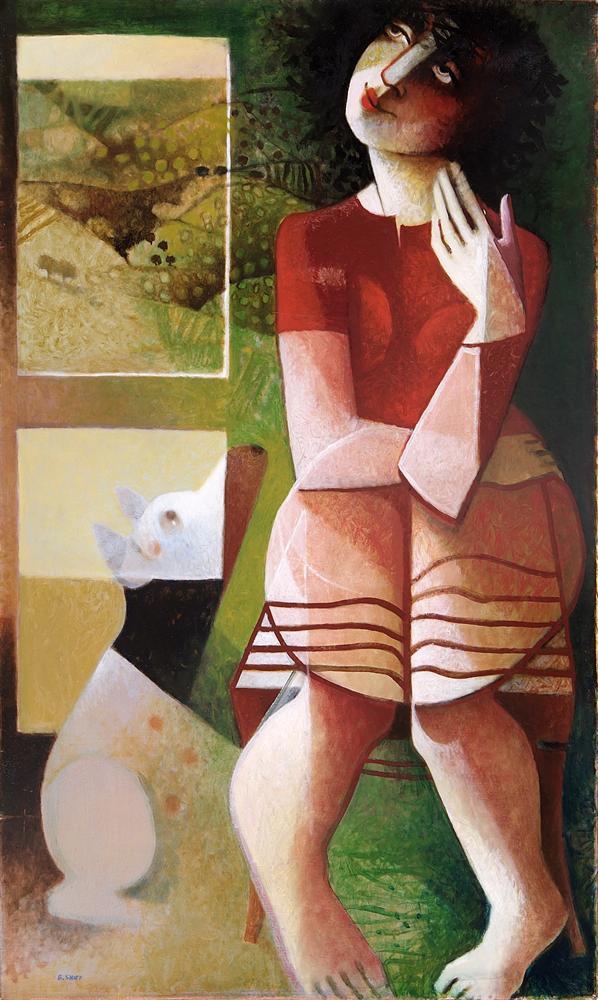 Memories
Oil painting on canvas
39 x 25"
$1,800
Peaceful
Oil painting on canvas
31 x 25"
$1,800
Sorry, sold for $2,250 framed



Repose at Sunset
Oil painting on canvas
39 x 31"
$2,000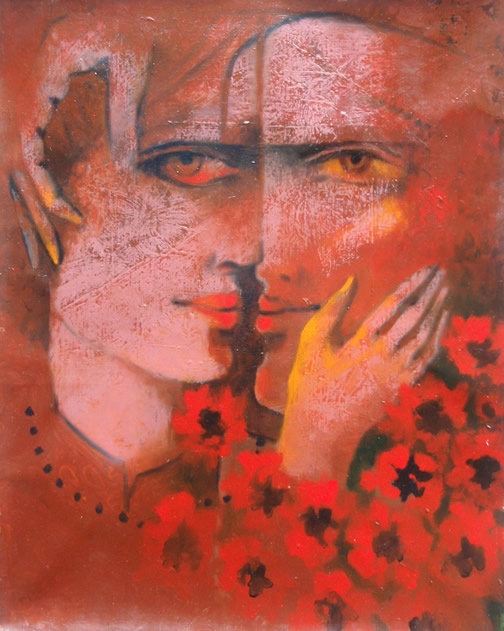 Soul Mates
Oil painting on canvas
19 x 15"
Sorry, sold for $2,000


Hope A
Oil painting on canvas
39 x 25"

$5,000
Sorry, no longer available
Benjamin Shiff
Something about the "painter of faith and love" and his work
Benjamin Shiff was born in 1931 in Germany and immigrated to Israel with his family at the age of two.
From this meager bit of information one can sense the impressions of a child forced to flee with his parents from a world into which he was born - a world which had only a short time before been free of any thoughts of tyranny and still full of hope for a happy family life. One can only imagine the impact of these perceptions.
On the other hand, young age might prove a protection in order not to see too much and not to be scared by the world, but to feel a great joy of freedom and witnessing great events.
Benjamin Shiff calls this early period of the new State of Israel the most impressing one for his life and his work as an artist.
The bombings of the city of Haifa each night, the enormous demonstrations against the British mandate while Holocaust survivors were trying to reach the shore - and at last the battle of Jerusalem when he was nearly 17 years old. Many times and events of different need of effort have left traces from this time in his biography that affiliated the ones of his childhood and youth in the very sunny city of Haifa and its surroundings.
Art can be a way out of being traumatized by such experiences. When the artist creates worlds and moments in his work, ways are shown to make lost or dreamt realities a part of real life as sensually perceptible images that combine seen and thought things with yearnings and dreams.
Benjamin Shiff's oeuvre is of such a notable quality: His paintings speak a poetic picture-language. People in his works appear both simple and warm in equal measure. The facial features of those depicted are faultless, as faultless as the surroundings in which they are arranged. Both the human object and the aspects painted in the picture radiate a harmony which somehow settles on the beholder through viewing.
Whether on a bright day at sea or in the light of reddish illuminated surroundings - whichever situation Benjamin Shiff assigns to his figures - each individual painting emanates quietude, concentration and contemplation. No doubt, in his paintings Benjamin Shiff expresses the intactness of the moment. It is this intactness of the moment, which every human being may already have experienced or fantasized in such or similar fashion, which communicates itself like the poetry of color.
The poetry inherent in the paintings not only reveals itself in the ornate titles which may be named "Floral Embrace" but also visually, in the seamless interlacing and interweaving of the human with his surroundings. Consequently, these are partly dreamy and unrealistic pictures; however, at the same time they produce a very realistic impression because Benjamin Shiff uses the techniques of the Old Masters and paints the details he finds important in a concrete and very accurate manner. We find aesthetic and cultural items in the paintings, such as musical instruments, flowers and other features in the interior.
Through his paintings, Benjamin Shiff invites the beholder to follow him into a world distinct from the world outside. An enchanted world, reduced to specific details beckoning us to take a seat - albeit pensively and emotionally - within the unique atmosphere created by the artist. Benjamin Shiff's paintings are like a journey into a world in which the colors, shapes and figures establish a liaison that was not created for the sake of the picture alone, but rather particularly for the spectators outside and, as it were, we the spectators are invited to enter and allow ourselves to be immersed in the warmth, love, confidence and faith of the true beauty, peace and serenity of life.
Benjamin Shiff treats different topics with which he has occupied himself during his life in various artistic ways. Through decades of artistic struggle coupled with philosophical reflection, musical inspiration, lyricism and poetry he has created the poetic composition embodied in the pictures. Most of the pictures are painted in oil and tempera on canvas according to the manner and the technique of the Old Masters. He enriched his artistic knowledge by means of advanced studies taken up in Austria. He sharpened his perspective and added a Jewish philosophical content. For the last several decades his pictures have been welcomed throughout world both in galleries and exhibitions. It is particularly noteworthy that his creativity erupted only in the fourth decade of his life and that his first exhibition - in Bonn, Germany in 1976 - took place in a country he had been forced to flee at a very young age. Many additional annual exhibitions have followed since then, both in Israel and Germany. In addition, showings in the US and subsequently in Western and Eastern Europe and South America have followed. One can only assume that the international appeal of his exhibitions reflects the universally apprehensive testimonies of his pictures. Linguistic, territorial or cultural differences do not erect any kind of barrier to approaching his pictures and to opening oneself up to them.
As Shiff himself indicated, trigger and start of painting at the age of 40 was at once the influence and fascination by the painting technique and style of the Belgian surrealist artist RenÚ Magritte. However, Benjamin Shiff's distinctive style differs very much from that of Magritte, although both artists also reveal their composition in their works - namely the bringing together of content and events which are not as they really are in the physical world. Through his occupation and involvement with philosophical resources, meaning of Faith painting is universal, the simple love and na´ve belief. Shiff creates a unique picture-world which comes close to being understood as a progression, in the sense of a "modern Chagall" as it were.
Dr. Susanne Guski-Leinwand, Bad Honnef/Germany
Dr. Susanne Guski-Leinwand is a scientist, psychologist and art-therapist. In 2009 she opened the Chagall exhibition (Exodus Cycle) in Hamm/Sieg near Cologne.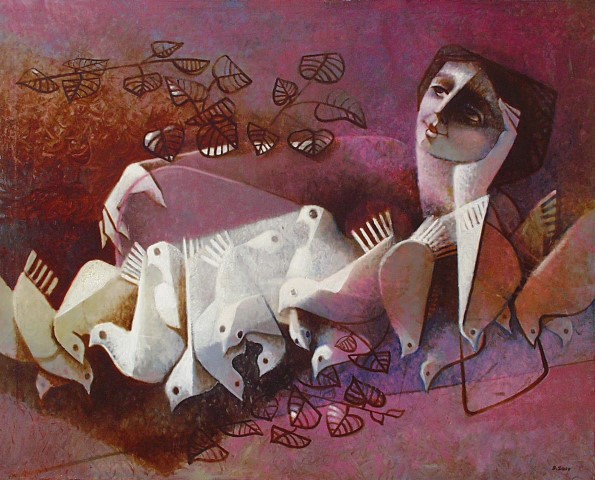 Daydream
Oil painting on canvas
31 x 39"
$1,500


First Born
Oil painting on canvas
31 x 39"
$2,000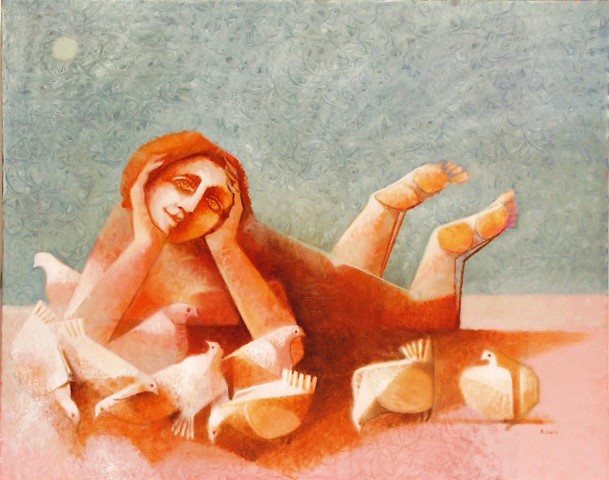 Inner World
Oil painting on canvas
31 x 39"
$1,800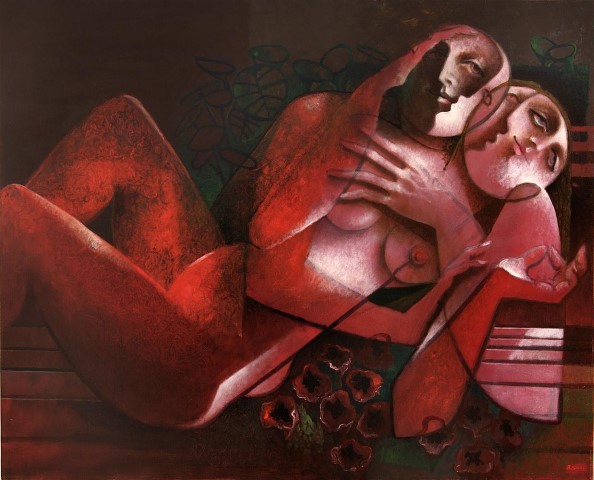 Lovers
Oil painting on canvas
31 x 39"
$3,000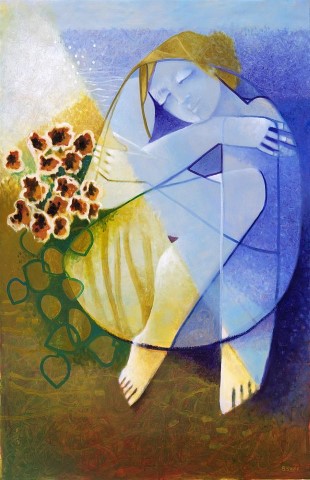 Solitude
Oil painting on canvas
39 x 25"
$2,000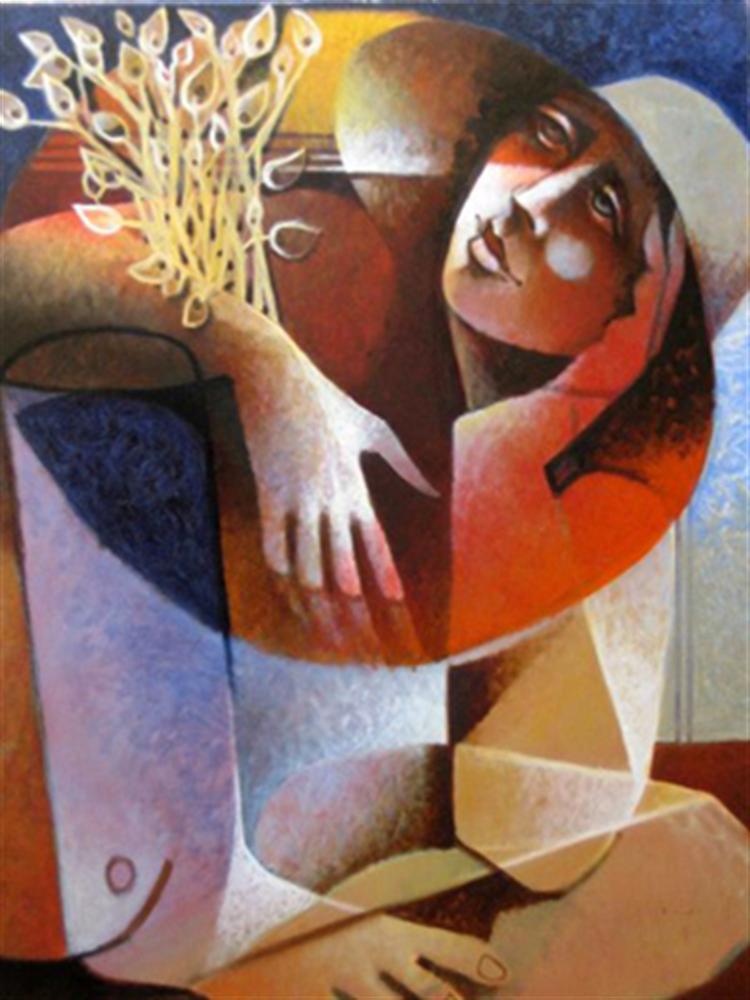 Summer Time
Oil painting on canvas
31 x 25"
$1,800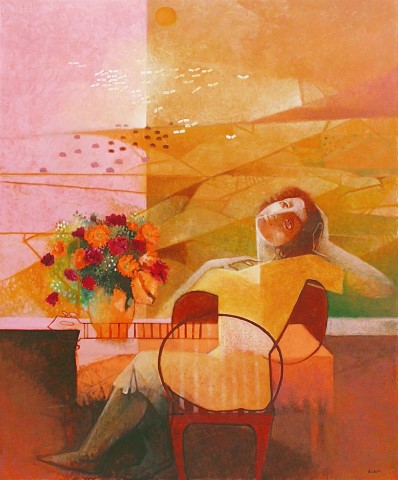 Time for Myself
Oil painting on canvas
47 x 35"
$4,000



Faith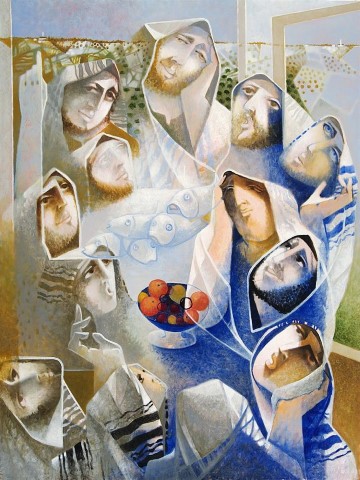 Gathering
Oil painting on canvas
47 x 35"
$9,000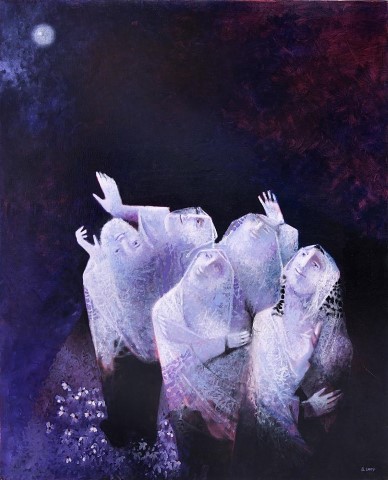 Moonlight
Oil painting on canvas
39 x 31"
$6,000
In the Jewish religion, the moon has significance including defining the Hebrew months and holidays. For some, there is a ritual of going outside and praising God for renewing the moon when the new moon appears. The renewal of the moon also signifies hope, another theme common to Benjamin Shiff's artwork. In Moonlight, above, Shiff depicts the prayer being said outdoors at night on the occasion of the new moon when the sky is clear.


Hope B
Oil painting on canvas
39 x 25"

$5,000
Sorry, no longer available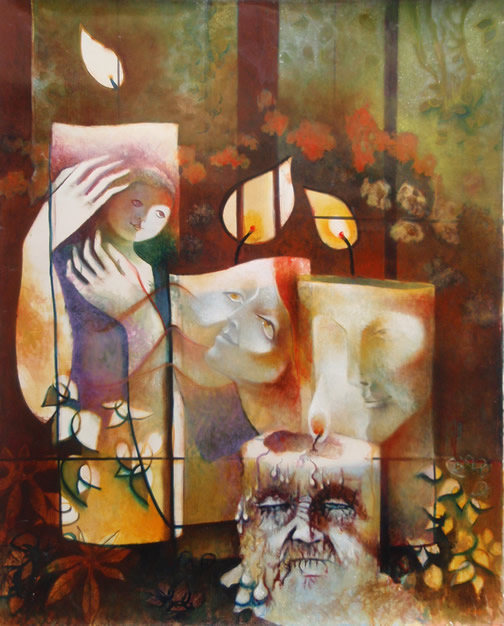 Life
Oil painting on canvas
39 x 31"
$6,000
Sorry, no longer available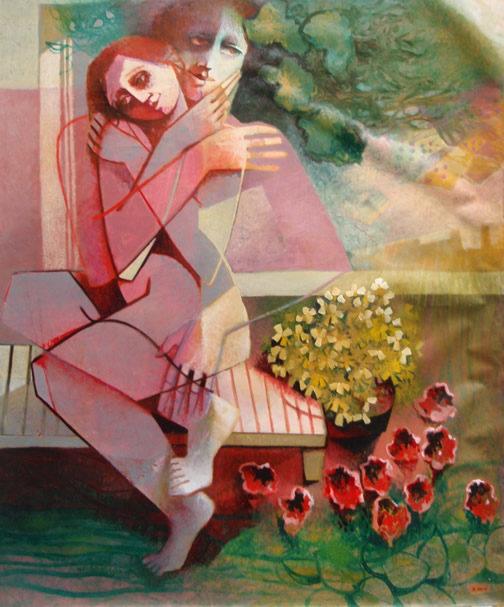 A Nation of Two
Oil painting on canvas
47 x 39"
Sorry, sold for $6,000