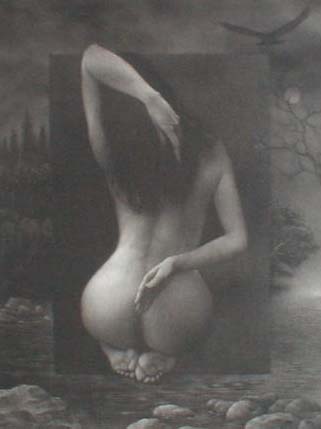 Homage a Felix Buhot
Original mezzotint, 1998
8 1/2 x 6 1/2"
Signed by the artist
Numbered 19/90
Sorry, sold

Deux Nus V
Original mezzotint
22 x 19"
Signed by the artist
Numbered 65/75
Sorry, sold
Mikio Watanabe
was born in Yokohama, Japan in 1954. After graduating from the Ecole des Beaux Arts of Tokyo in 1977, he was drawn to Paris to perfect his mezzotint technique. Admission to the prestigious Atelier 17 of Stanley William Hayter soon followed and he studied engraving there from 1979 to 1981.

In 1989 Watanabe was awarded at Salon de la Gravure Originale in Bayeux, France and in 1992 at Miniprint International in Cadaques, Spain.
Mikio is a member of the International Academy Greci-Marino in Italy. He has dedicated his work to mezzotint since 1981 and after over 50 one-man exhibitions, one can find his work in public and private collections internationally.

His hand-rocked, copper plate images are Mikio's sensuous, reverent, and intimate homage to the female form, with a fine quality that bespeaks the artist's many years of devotion to his craft.

The quality of his engravings is consistent with the high regard for excellence that is the hallmark of Saper Galleries.
The Mezzotint Medium
Watanabe
creates a mezzotint by repeatedly pressing a curved, serrated mezzotint "rocker" over the surface of a rectangular flat copper plate until it makes thousands of tiny indentations. After the entire surface of the plate has been textured, yielding a rich velvety black when inked, scrapers are used to shave down the raised areas to a variety of heights that will produce soft tones from dark gray to white when inked and pressed.
While the mezzotint has a history dating back to the 17th century, very few contemporary artists have achieved the technical skill and dexterity of a master. In Watanabe's work, one senses not only his devotion to his craft, but also a more private devotion – his model for many years was his beloved wife, Yuriko.
Watanabe expresses this powerful combination of technical mastery and artistic inspiration when he states, "The moment when the copper, the technique, the tools, and myself become one harmonious whole, the result is breathtaking and speaks to me with eloquence."


Click here to view the one-page pdf displayed at the exhibition providing more information about the mezzotint medium.

Enjoy the rare opportunity to see this significant exhibition of Mikio Watanabe mezzotint engravings in celebration of our first 40 years.
~ Roy Saper