---

Artist Meet And Greet At Saper Galleries: Lou Heiser's Vistas Of Michigan

Source: EastLansingInfo.org

Authored on Friday, 2-Oct-2015


Author: Rosalind Arch


Artist Lou Heiser and Saper Galleries owner Roy Saper

This weekend, discover artist-eye views of Mother Nature that exist far closer to home than you might imagine.
Artist Lou Heiser will take viewers on a journey through the beautiful landscapes of Michigan with his collection of oil paintings entitled "Vistas of Michigan." The exhibition will be opening this Sunday, October 4, 2015 from 1 to 4pm at Saper Galleries in downtown East Lansing. It is free and open to the public.

Saper Galleries is a long-standing East Lansing gallery that has acquired its much deserved attention over the past 37 years by serving both the local community and art collectors from all over the globe. Owner, Roy Saper started the business in 1978, in his first home at 429 Bailey Street in East Lansing. Even then he was committed to a philosophy of sharing quality art with fellow residents. "I create these exhibitions, always free to everyone, as a commitment to community and love of sharing," says Saper.
Over 1,500 original works of art by 150 artists are available at Saper Galleries, and the inventory is always changing. "I like original artwork that connects with people," Saper states. He adds that the gallery strives to stock one of a kind art and diverse collections that appeal to all different tastes and that only a few talented individuals are selected every year from an incredible number of artists vying to be represented in the collection. Lou Heiser is one of those few.
Saper recognized the quality of Heiser's work immediately, and has displayed his oil paintings since the artist approached him in 2009. "What I like, in particular, about Lou Heiser's paintings," reflects Saper, "is their relevance, and that he has a technical proficiency and maturity that allows him to achieve the results he is seeking."
Heiser is a successful architect and landscape painter from Chicago, Illinois. He has designed houses all over the country, including homes in Leelanau County, Michigan, and his oil paintings are featured in various galleries across the state.
Vistas Of Michigan explores the nooks and crannies of Michigan in a collection of oil paintings that reflect the allure of nature and the artist's imagination. "The paintings portray scenes that he visits near where he lives up north," notes Saper, "and he captures the exaggerated colors as a reflection of what his mind's eye sees. He does not paint for an audience, he paints for himself, and the joy and exuberance in his paintings is evident."

The artist will be in East Lansing to meet with gallery visitors during the First Sunday Gallery Walk, Sunday, October 4, 2015 from 1 to 4pm at Saper Galleries, 433 Albert, in downtown East Lansing. The exhibition will continue through December, Monday through Saturday 10 am to 6 pm and the first Sunday monthly from 1 to 4pm. Further information can be found at www.sapergalleries.com.
---
How Deep the Rabbit Hole Goes
New Saper Exhibit Threatens to Peel the Skin Off the Real World

---



PERSONAL TOUCH IS KEY TO INTERNATIONAL SUCCESS FOR LOCAL GALLERY

The Greater Lansing Business Monthly

WRITTEN BY MICKEY HIRTEN
POSTED AUGUST 2014


Original article here.

---



First Sunday Gallery Walk
Lansing State Journal online
August 3, 2014


Robert Killips | Lansing State Journal

Roy Saper of Saper Galleries in East Lansing talks about the work of French artist
Fabienne Delacroix he has on exhibition. The gallery is open for the First Sunday Gallery Walk.


Robert Killips | Lansing State Journal

Jackie Borszich looks at the smooth and luminescent oil paintings of Hilary Eddy
at Saper Galleries in East Lansing as part of the First Sunday Gallery Walk.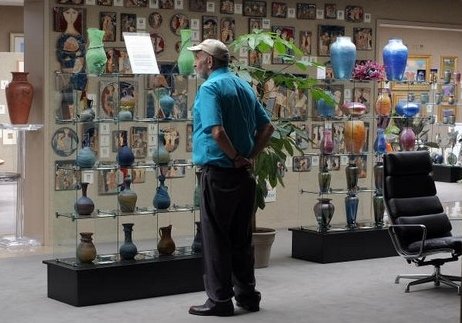 Robert Killips | Lansing State Journal

A man looks at the pottery on display at Saper Galleries in East Lansing Sunday.


---
Today's Feature: Paintings of Parisian Artist Fabienne Delacroix
East Lansing, MI
8/1/2014 - 9/30/2014
433 Albert Avenue
East Lansing, MI
http://sapergalleries.com/Fabienne.html
---
Michigan's beauty on display at East Lansing gallery

March 16, 2014 Towne Courier
---



Art Comes Alive Art Competition
Cincinnati, Ohio
June, 2013

Juror
---



Wednesday, June 5, 2013
'We're going to keep on going'
After cancer surgery, Roy Saper is proudly back to 'not normal'

by Lawrence Cosentino
City Pulse


---




The Art of Local Sustainability
Published on

May 14, 2013


---
---



City Pulse

---



Exhibit featuring new work of magic realism painter Rob Gonsalves
opening at the Saper Galleries in East Lansing
By Zeke Jennings | zjenning@mlive.com
on February 01, 2013

http://www.mlive.com/lansing-entertainment/index.ssf/2013/02/exhibit_featuring_new_work_of.html



---




Saper Galleries Unveils 'Magic Realism' Pieces
By Brytanie Killebrew
The State News
February 4, 2013


http://statenews.com/article/2013/02/saper-galleries-unveil-magic-realism-peices

Saper Galleries and Custom Framing brings realism, surrealism and illusionism to East Lansing.

The gallery, 433 Albert Ave., opened "The Magic Realism of Rob Gonsalves" exhibit to the public yesterday from 1 to 4 p.m.

Saper Galleries owner Roy Saper, an MSU alumnus, was excited for people to experience Gonsalves' work.

"This guy is so inventive," Saper said. "I really like his work and he's a great person."

Rob Gonsalves is a Canadian-born artist whose work captures both surrealism and illusionism.

The exhibit contained 11 of Gonsalves' framed and unframed works that are available for purchase.

Each piece is something Saper believes is understandable for both children and adults.

"This is art for the 100 percent, not the 1 percent," Saper said. "Rob Gonsalves would appeal to everyone."

Saper admires how effortless and "outside of the box" Gonsalves works are.

"He starts with a white box and turns it inside out," Saper said.

It has been nine years since Saper Galleries held an exhibit of Gonsalves' work. In 2004 the gallery displayed 67 pieces by the artist, who also attended the event.

According to Saper, Gonsalves' work, along with every piece displayed in the gallery, was chosen because of his personal enjoyment.

"I wanted to introduce the community to an artist who is current, young and significant worldwide for his work," he said.

Aside from displaying works, Saper said he also enjoys working with MSU students. "I love MSU students coming more than anyone else," he said.

"Too often on campus (they're) stuck in the grind of going to class, going to the cafeteria and studying. This place offers students a break."

Saper believes the gallery is a great place for students to discover and learn about art.

In the past, he has spoken to a group of education and poetry students about art and poetry, as well as human medicine students about the calming effects of art.

"A lot of classes come here. This is a classroom … And what better place to learn and discover than here?" Saper said.

MSU alumna Michelle Jekel attended the exhibit and appreciated Saper's wide selection of works. "I always come back to roam MSU's campus. I'm really glad I came in," she said.

Suzanne Lowe, who considers herself an appreciator of art believes Saper Galleries is great for the community.

"We are very fortunate to have Saper Galleries here," she said.

"The Magic Realism of Rob Gonsalves" will be displayed throughout March.
---
Saper Galleries Brings Global Art to Capital Region

The Greater Lansing Business Monthly
February 2013


Walking into Saper Galleries makes an art-lover's heart beat faster: paintings on large canvases and small; landscapes, portraits and abstracts; sculpture in silver, stone, bronze or marble; intricate boxes of polished wood; hand blown glass in gleaming colors or muted hues; mobiles that sway gently overhead.
"The biggest problem p
eople have when they come to my gallery is that there is just so much here that people love," said gallery owner Roy Saper. "It's hard t
o choose."
Walking through the gallery is like visiting a fine museum where appreciative visitors can find something beautiful to suit every taste, every mood and every occasion. And if the art lover doesn't find exactly what he/she wants, a word to the owner will suffice.
Besides everything on view, there is an impressive collection that isn't currently being displayed. And, failing that, Saper can probably find just what the buyer wants by searching it out though his connections with the art world and making it available to the purchaser. With 1,500 pieces of art in the collection and work by more than 150 artists from 15 countries, Saper Galleries is the end of the rainbow for those looking to enhance their environment with art.
Saper, the man behind the galleries, has been fascinated by art from an early age. He studied viola as a boy and attended high school at Interlochen Arts Academy where he was surrounded every day by the arts in all their diversity. Even at the age of 14, he began collecting pieces of art that spoke to him. After high school, he attended Michigan State University, initially with the intention of majoring in music therapy. However, he found himself drawn to a completely new field — computers. This was in the late 1960s when the world of technology was in its infancy. Saper ended up as one of the first-ever MSU students to graduate with a degree in computer science. He went on to complete the course work for a Ph. D in economics, but his path led him in another direction.
"In 1978, I started selling art out of my home. My first customers were not people in the area. Rather, because I had unique works of art, people from outside the community traveled to purchase pieces from me," said Saper. "I acquired the land, the last vacant parcel in downtown East Lansing, for the current gallery in 1985. In preparation for my first show in the new space, I contacted well-known community figures and asked them that if they could acquire any work of art, what would it be? Then I went out and bought art by the artists they had chosen. I had work by Calder, Chagall, Picasso and other well-known artists. That's how I began building the collection I have now."
For 34 years, Saper has been making available to people the works of art that people want, works of high-quality that are very desirable.
"Our phenomenal success came about not only because of what we have available but also because we treat every single person who comes through our doors with respect," said Saper. "We give them time, courtesy and dedication; we are interested in their opinions. It's more than the Golden Rule; we treat people the way they would like their parents and grandparents to be treated! You can see by the testimonials on our website that our customers appreciate the way we do business."
Saper travels the world to buy pieces of art; he was recently in Israel where he purchased a quantity of ceramic relief work by Ruth Faktor. He has traveled to Costa Rica for hand crafted boxes, bowls and trays made of cocobolo wood. He goes often to New York City and others centers of the art world. But he also welcomes artists to his gallery who come in to show Saper their work.
Close to 1,000 artists each year visit Saper hoping to interest him in their work. He says, '"If I like it, I buy it. And I don't buy just one piece. When I visited Israel, I ended up purchasing 150 pieces by Ruth Faktor. I don't look at resumes, reviews or lists of where an artist has exhibited. What's important to me is whether or not the art speaks to me. "
Saper is always learning, he says. He continues to seek out work from relatively unknown artists, and his interests are vast. His expertise is similarly panoramic. He is often called upon to make presentations, write articles and even testify in cases of art fraud.
Saper Galleries offers art at prices ranging from $20 to six figures. There is also a full-service framing center. He says, "Our business model is different from most businesses. Yes, we want to make money, but we want to do it in a way that honors our customers. We offer everything at a fair value and always keep respect for our customers and our artists foremost in our minds. That model has served us well."
For Saper and his three employees, the art "business" isn't 8 to 5. The gallery has an interactive website, live chats, and they are always available by phone. They do a great deal of business with people outside of Michigan and outside of the United States via phone or Internet. And, even though the gallery is busy, every customer can expect personal service and a genuinely positive experience.
The gallery itself is large with art at every turn. Natural light flows throughout the rooms, and art is grouped to its best effect. It's easy to understand why people find visiting the gallery a moving experience. And it's easy to see that Saper's artistic vision has created an environment that is filled with beauty, imagination and inspiration.
Saper Galleries
433 Albert Ave.
East Lansing, MI
Phone: (517) 351-0851
www.sapergalleries.com
---




Saper Galleries to exhibit enchanting world of Rob Gonsalves

Lansing State Journal
Jan. 29, 2013
Books stacked high become Towers of Knowledge on tables where students are studying under mysterious lighting. / Courtesy photo
EAST LANSING — Imagination and creativity inspire Rob Gonsalves' magic realism.
What appears at first glance to be normal, realistic scenes, can become mesmerizing, captivating depictions of an enchanting world to an observer.
A Gonsalves' image is a visual double entendre, a second meaning appears to counter the expected, often eliciting a smile, according Roy Saper, owner of Saper Galleries in East Lansing.
For example, In Gonsalves' "Sailing Islands," tall pine trees by a water's edge morph into sailing ships with tall masts.
Books stacked high become his "Towers of Knowledge" on tables where students are studying under mysterious lighting.
A view across a river of a Manhattan-like skyline with lights dotting skyscraper windows at dusk changes to a forest scene, the tall buildings becoming a thick forest of evergreens in a snowfall in Gonsalves' "Light Flurries."
An exhibition of Gonsalves' artwork will open at Saper Galleries Sunday, Feb. 3, 1-4 p.m., in downtown East Lansing. It is the second time the local gallery has exhibited his work.
"Since we first displayed 67 Rob Gonsalves artworks in 2004, collectors have purchased from us close to a thousand of his prints on canvas and paper ... ," Saper said.
"We have shipped them worldwide as guests from more than 100 countries have viewed the Gonsalves images on our web site ... ."
Saper Galleries first exhibited Gonsalves artwork with a major exhibition of 67 limited editions on canvas and paper in late 2004.
Simon & Schuster has published three books of Gonsalves' paintings, the award-winning "Imagine a Day," "Imagine a Night," and "Imagine a Place".
"This is a wonderful indication of the universal language of art and the reason for now displaying Gonsalves' most recent images which have not been seen before in this area," Saper said.
Saper Galleries, in its 35th year in downtown East Lansing, has won numerous national and international awards for its exhibitions.
In this Rob Gonsalves work, entitled, 'In The Chalkboard Universe,' a professorial Einstein is lecturing to students in front of a chalkboard where equations gradually morph into a depiction of the cosmos. / Courtesy photo
If you go...
The exhibition of artwork by Rob Gonsalves opens Sunday, Feb. 3, from 1 to 4 p.m. at Saper Galleries, 433 Albert Ave., downtown East Lansing, phone 517-351-0815.
The exhibition continues through March.
Hours of operation: Monday through Saturday 10 a.m. to 6 p.m., Thursdays 10 a.m. to 9 p.m., and the first Sundays monthly from 1 to 4 p.m.
The State News
Michigan State University


Hebron Glass Collection on display in East Lansing
By Katie Ziraldo | Published October 5, 2012
Elementary education student Alyssa O'Connor looks at Hebron Glass Collection vases at Saper Galleries, 433 Albert Ave., on Thursday, Oct. 4, 2012. O'Connor was there with her poetry class. Julia Nagy/The State News

Hidden away in Hebron, the largest city in the West Bank, is a form of artwork rarely seen outside the Middle East. Using a long metal hollow tube, the artist picks up molten recycled glass in an 1,800-degree furnace and then blows through the tube to expand the glass.
The efforts result in a type of artwork most Americans would be unfamiliar with. That's why Roy Saper, the owner of Saper Galleries, 433 Albert, wanted it for his gallery.
"I knew about the Hebron glass, and I knew it was really rare and nobody could ever go to Hebron because it's a war zone," Saper said. "It's a very dangerous place to be, like much of the Middle East. But I knew I had to go there."
A Hebron Glass Collection vase is on display at Saper Galleries, 433 Albert Ave., on Thursday, Oct. 4, 2012.
Saper's mission was easier said than done. He said the experience of going to Palestine with his wife and son was unreal.
"What I learned is it's easy to get in, but hard to get out. To get out you have to go to Israel, and they don't let just anybody out. If you have some kind of Palestinian connection, there will be difficulties."
Saper said the Hebron glass now is a rarity.
"There were 14 studios in Hebron making glass, and now there is only one family, after glass has been produced in Hebron for a couple thousand years at least," Saper said. "They're down to the last family. My feeling was I have to go there and get that glass and bring it back … It's really exciting to get to share something with our community like that, that they would never see otherwise."
The owner's drive to display rare artworks is not a new passion.
"For 34 years what I've done is make every effort to display for our community works of art that they otherwise would never see," he said.
It is this quality that makes Liz Fuller, a Saper Galleries employee, so pleased with her work. "Every day is a learning experience," Fuller said. "It's an amazing place to work, especially being an artist and getting to see everything we have here."
Art history and visual culture professor Susan Bandes said it is important for people, especially college students, to experience art from other parts of the world and know its history.
"I think it gives us a broader perspective than we normally would have, and it also puts current events into a cultural context," Bandes said.
Saper said the collection is the perfect opportunity for Americans to experience other cultures.
"It's totally unique and different, and nobody will see it this large and significant anywhere else in this country," Saper said.
The Hebron Glass Collection will be on display at Saper Galleries for the month of October.
Rare Hebron Glass Collection to be Exhibited in East Lansing
Towne Courier
Aug 29, 2012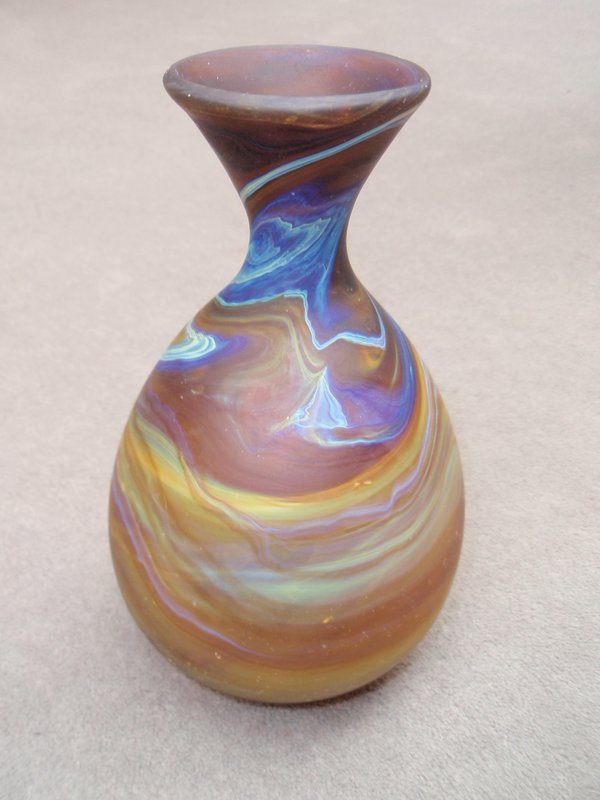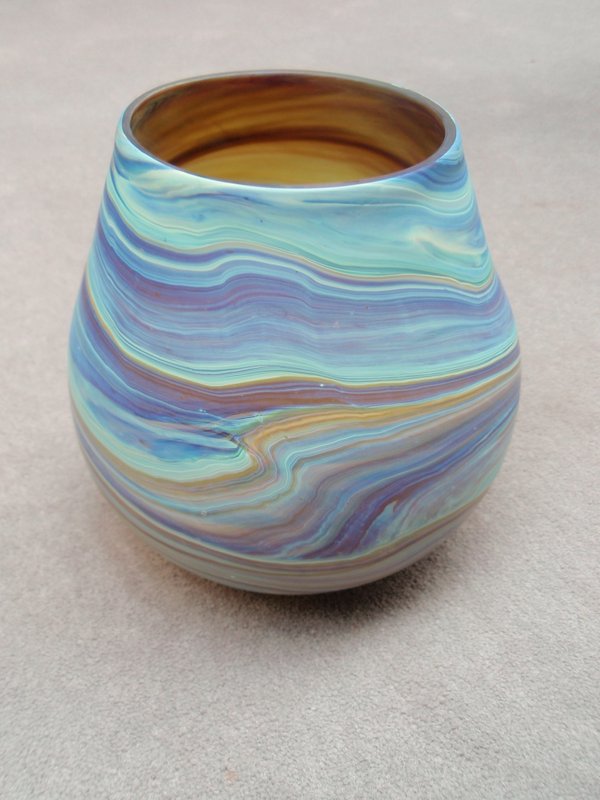 Rarely seen outside of the
Middle East
, Saper Galleries has acquired 51 of the unique, swirl-colored
hand-blown glass vases and will open The Hebron Glass Collection at Saper Galleries Sunday, Sept. 2 from
to
, downtown
East Lansing
at
433 Albert Ave.


Collection on exhibit
The Hebron Glass Collection at Saper Galleries opens Sunday, Sept. 2 from to at Saper Galleries, 433 Albert Ave., downtown East Lansing. The opening is free, open to the public and is fully accessible. The exhibition will continue through October. The gallery may be reached at (517) 351-0815.
EAST LANSING — For more than 2,000 years, hand-blown glass has been made in Hebron, the largest city in the Palestinian West Bank.
Rarely seen outside of the Middle East, Saper Galleries has acquired 51 of the unique, swirl-colored hand-blown glass vases and will open The Hebron Glass Collection at Saper Galleries Sunday, Sept. 2 from to , downtown